Teaching children they will inherit the earth
Teaching children they will inherit the earth
Additional image::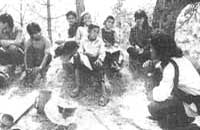 FOR A change, it's the children who are the focus of a conservation programme that is inspired by the saying "We have not inherited the earth from our forefathers, but only borrowed it from our children". Anil Chitrakar, a Kathmandu-based engineer-turned-conservationist. is responsible for the movement to educate children -- the real owners of earth -- on ways to understand and preserve their property.

For six years, Chitrakar and his band of volunteer counsellors have been working under the aegis of Environmental Camps for Conservation Awareness (ECCA), spreading the gospel of conservation in schools across Nepal. Why did Chitrakar choose this particular approach? "Adult functional literacy is very low in this country -- ranging between 22 per cent and 29 per cent," he answered. " We believe that we can teach parents about conservation practices through their children, because the young transfer their knowledge to their elders informally yet effectively."

ECCA has evolved an innovative, three-stage methodology to achieve its goal. In the first stage, 20 motivated youngsters are trained at a three-day camp run by experts to become trainee counsellors. In the second -- and, perhaps, most important --stage, 10 counsellors interface with a select group of 20 school children between the ages of 11 and 14, during a five day camp where the participants work on various projects. For instance, they may be required to draw up an environment plan for the village and, Chitrakar noted, often the data the children collect for their projects is more authentic, because the villagers open up more to them.

The third stage is on the last day of the camp, when the entire village turns up to watch a cultural programme presented by the students. With this, the curtain comes down on the camp but the real work only begins now, for the students are required to continue interacting with the local community.

In the six years that ECCA has been running the programme, it has trained 400 youth in 19 districts in Nepal. In 1992 ECCA expects to conduct 60 camps all over Nepal. The campaign became international recently, when World Wildlife Fund invited ECCA to organise similar camps in Bhutan -- a signal accolade considering the state of relations between the two nations. Other international voluntary agencies have also asked Chitrakar to run camps for their workers and already one such camp has been held for extension workers of Action Aid. There was a time when ECCA had to go out and volunteer to hold camps; now, more than 80 per cent of its camps are held on request. With the ease in funding problems, the organisation is accepting more challenges and three years ago ECCA began holding camps for handicapped children. "This requires a lot more patience," explained Chitrakar, "But the rewards are also greater."

As ECCA grows its focus also is changing. Said Chitrakar, "In a poor country like Nepal, by targeting only schools, we ignore the majority of chidren and concentrate on the affluent within the community." His immediate plan is to organise camps for school dropouts.