A school with an ecological curriculum
A school with an ecological curriculum
Additional image::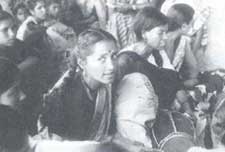 NESTLED amid pine forests, apple orchards and vegetable gardens at Kausani, in UP"s Almora district, is Lakshmi Ashram, a residential school begun 45 years ago and featuring a distinctive pattern of education, placing special emphasis on ecological consciousness. The students come mostly from remote hill villages and from extremely poor backgrounds.

Lakshmi Ashram was set up by Sarla Behn, an ardent Gandhian, with the express intention of awakening the spirit of shakti in ordinary hill women by training them to cope with the rigours of hill life and engage in the processes of social transformation.

The virtues of simple living are instilled in the students and propagated through village balwadis run by the school, as well as through other outreach programmes in Almora and Pithoragarh districts. The aim is to integrate the students into the hill environment rather than alienate them from it. That this approach has worked is borne out by the fact that such dedicated environmental activists as Vimla Bahuguna of Tehri Garhwal, Shashi Prabha Rawat of Pauri Garhwal and Urmila Bhatt of Uttarkashi were among the first students to study at the ashram.

The school"s daily routine is not much different from life in a hill village. Nima, a senior student at the school, explained, "We do what all the women in the villages do -- we clean, cook, look after the dairy, collect firewood, care for the smaller children and even grow our own vegetables and fruit. At the same time, we study, we interact with many different people, we travel and learn so many new things."

Lakshmi Ashram, with its markedly Sarvodayite outlook, operates on the belief that only a balanced pattern of development, which addresses the basic requirements of all citizens, can stem the tide of migration characteristic of "backward" regions such as Kausani. The ashram consciously encourages decentralised planning and local self-sufficiency.

In Uttarakhand today, there is a preponderance of women, children and the elderly because young, male adults migrate to cities in search of employment. The women are thus left on their own to run an economy, based largely on subsistence agriculture and foraging, which means they interact closely with nature.

Traditional communities are generally sensitive to the fact that nature"s resources require nurturing and replenishment. For instance, older women at the ashram teach young women how branches should be lopped so as to foster, rather than stunt, tree growth. It is such local knowledge that Lakshmi Ashram seeks to promote.
Social movements Over the years, Lakshmi Ashram has engaged actively in social movements that are in consonance with its basic philosophy. In the 1950s, students and teachers undertook extensive padyatras throughout Uttarakhand to spread the message of bhoodan. In the 1960s, an experiment in living in a commune was conducted, including self-sufficiency in food and clothing. The 1970s saw a shift in emphasis, with increasing involvement in militant protests against deforestation in the hill region and the curse of alcoholism. Thousands of ordinary hill women participated in these protests, supported by a number of other groups such as the Uttarakhand Sangharsh Vahini in Almora and the Dasholi Gram Swarajya Sangh in Chamoli.

Radha Bhatt of Lakshmi Ashram recalled the decades and said, "It was in those years that I realised the tremendous strength, militancy and extraordinary wisdom of the hill women of this region. We try to nurture this wisdom, this strength, in whatever way we can."

Through the 1980s and at present, Lakshmi Ashram members have been active in movements against destructive mining. The first such movement took place in Kheerakot village, about 6 km from Kausani, where they got together to demonstrate against a soapstone mine that was destroying their fields, their water sources and their pathways. The protest was complicated because though these women had to bear the ecological consequences of the mining, their menfolk were lured by the prospect of jobs and wages.

Said Malati Devi of Kheerakot village, describing the struggle, "We launched direct protests blocking the paths on which the miners" mules travelled and picketing the site. Finally, we had to file a case in court. In all this, our sisters from Lakshmi Ashram helped us. After two years of bitter struggle, we won the case. Katihar and Company had to pack up and leave. We then reclaimed the land. Now our forest has come back to life."

The Kheerakot struggle was followed by a spate of anti-mining protests in areas as far apart as Nahikala in Dehra Dun district and Bajeti in Pithoragarh and against the Tehri dam. Several ashram members and other hill groups have spent months in and around Tehri working to mobilise area residents to resist the dam. Travelling from village to village in the submergence zone and adjacent areas, they provide the villagers with information about the Tehri project"s adverse consequences.

Gender dynamics in these movements are problematic for though hill women are militant, they remain in the background when it comes to leadership issues and lapse into their daily drudgery, once the tide of the movement ebbs. Stressing the importance of consolidating the opinions and experiences of these activists, so as to evolve stronger and more long-lasting struggles, Lakshmi Ashram sponsored in 1986, a gathering of about 65 activists at which they shared their experiences. It was a unique experience for these women, who had pioneered and participated in public protests, but thereafter locked themselves in their own small, village worlds.

Over the years, Lakshmi Ashram has maintained an uncompromising stand that priority must be given to the needs of the hill women. The ashram has developed a sharper understanding of their condition. Nevertheless, the question remains: Can a group such as Lakshmi Ashram really counter the trend towards ecologically destructive projects and rapid urbanisation? The need is clear for people"s groups to establish concrete and workable links with each other, while retaining their individual identity. Only through such a strategy can complex but specific hill problems be solved.